Serving the Craft Beer Industry

Serving the Maple Syrup Industry
Serving the Craft Beer Industry
Serving the Maple Syrup Industry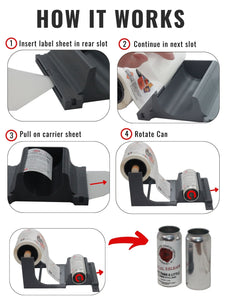 Simple and Easy:
Apply labels in as little as 2-3 seconds per can.
Tailored 3D printed design for the most common cans and bottles used in each industry.
No adjustment necessary. Simply secure it to a work surface and begin slaying the labels.
Label Requirements: Labels must be on a roll of 12" diameter or less, with rewind direction: #3 (right side leading) or #4 (left side leading).
The Label Slayer works best with traditional opaque BOPP style labels. Clear labels tend to be flimsy and may wrinkle easier depending on the label supplier.
The Label Slayer In Action:
Why Label Slayer
Save yourself time and improve product presentation by using the Label Slayer to quickly and accurately apply labels to your containers. The Label Slayer is a tailored design for the most common sizes used within various artisan industries.
Leveraging the modern additive manufacturing technique of 3D printing, we can now provide a cost effective alternative to those high end, over engineered and complex table top label applicator devices. Why pay all the extra money for an applicator jig that is designed to apply a label to every bottle known to man when you only have 1-2 bottle and label sizes. The Label Slayer takes an alternative approach by providing a fixed design tailored for your specific bottle/can size and label width.
---Patent Pending---